Bio
Blonde Blythe has always had a love for dolls & art, so one day she decided to combine them! After painting a portrait of a blonde Blythe doll in Kozy Kape, she sold the painting in an eBay auction, and has been hooked ever since.
Blonde Blythe's Blythe doll art was featured in the July/August 2001 issue of Barbie Bazaar magazine, upon her discovery by Tiffany Lewis, author of "Blythe American Gothic." Her art was more recently featured in Dolls magazine (October 2009 edition) in the article, "The Eyes Have It."
Although Blonde still delights in painting her unique renditions of the Blythe doll, she has also developed a variety of big-eye characters who light up the canvas as doll-like fairies, witches, mermaids, fairy tale maidens, Genies, pin-up girls, ballerinas, and an endless parade of never-ending characters! Blonde paints whatever her mood inspires her to paint, so--brace yourself--because you never know what to expect!
Blonde is a big-eye aficionado, and collects retro prints from the 1960s and 1970s by Gig, Eden, Maio, and Margaret Keane. She is also a Betty Boop fan.
Her favorite pastime is watching old movies (Chaplin, The Great Gatsby [with Robert Redford], Meet Me in St. Louis, Somewhere in Time, A Will Of Their Own, Cheaper By the Dozen [the original version with Jeanne Crain], Little Women [with June Allyson], Margie, Pretty in Pink, Sixteen Candles, Ice Castles, etc., etc.) while she paints in her sunny studio located in the rural south. Blonde is a BIG fan of the Waltons--she owns seasons 1-9 on DVD! She also loves the Little Rascals (Our Gang) and silent movies. She adores Charlie Chaplin, Laurel and Hardy, Clara Bow, Louise Brooks, Rudolph Valentino, Buster Keaton, Harold Lloyd, Ramon Novarro, and more!
Blonde loves the ragtime music of Scott Joplin, 50s doo-wop, 70s, disco, and 80s music, especially the Bee Gees.
Blonde Blythe, a graduate of Jacksonville State University, is a self-taught artist who paints in acrylics on canvas.
Her dream is to one day take a trip in H.G. Wells' time machine and travel back to the 1920s--really! ;-)
I Love Creating Hubs!
What are Hubs?
They are mini Web pages filled with all sorts of fascinating information and visuals pertaining to any and every topic imaginable! Some examples of my lenses are: "Blonde Blythe: The Original Blythe Doll Artist," "I Dream of Jeannie Tribute & Gifts," and "Margaret Keane: Mother of Big-Eye Art." There are many, many more topics to choose from, so what are you waiting for? Click the link below to see what all the fuss is about:
Visit Blonde Blythe's Hubs Now!
Blonde Blythe's book, Big Eye Art: Resurrected and Transformed, was published by Merrell Publishers in 2008. Click the book icon to purchase.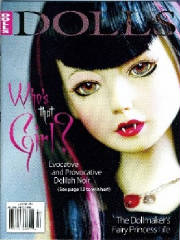 Blonde Blythe's art was featured in the October 2009 edition of Dolls magazine in the article, "The Eyes Have it."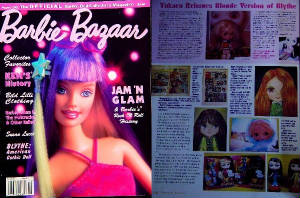 Blonde Blythe's art was featured in Barbie Bazaar (July/August 2001) in the article, "Blythe: American Gothic."
Blonde Blythe's art is featured in the book, Art Wanted.Com: Creative Minds.